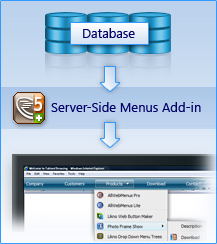 Server-Side Menus API is an add-in, specifically designed to cover the needs of those who want to generate menus on-the-fly, either database-driven or programmatically generated menus based on your conditions/parameters, on server-side environments such as PHP, JSP, ColdFusion, ASP, ASP.NET, etc.
It is also needed for WordPress Menu, Joomla Menu and Drupal Menu implementations.
All technical information for using the API is documented at a PDF file, located at the "Add-ins -> Server Side Menus API" option of the AllWebMenus interface.
View how it works through a detailed example
Installation of the Add-in
AllWebMenus installations since Build #728 (February 2008) already include the Add-in:
So, nothing extra is needed from you.
If your AllWebMenus is older (lower than #728) download the Add-in Setup file from here:
Release Version:
2.0.39
(released with AllWebMenus Build #888, view changes)
Help Version:
2.0.39 rev 1 (included in setup)
view online (pdf)
Download link:
Not needed, this version of the Add-in is pre-installed in AllWebMenus Build #888 or above.

If you have an earlier version of AllWebMenus, download its latest version from the AllWebMenus download page (this will also install the latest Add-in version).

(Note: If you are using the Actinic platform, please download the related Actinic Add-in setup file for v5)
Instructions:

Open AllWebMenus and find this item on the menu:

You can use the Add-In's settings from there.