AllWebMenus can generate a ROR Sitemap based on your menu structure. The produced Sitemap is exported into a simple .xml file. To create site maps for free, just follow the steps below:
1. Download AllWebMenus
(no need to purchase license for the free "Create ROR Sitemap" feature!)

2. Install AllWebMenus, open it, and create your site structure:

3. Select the "Tools -> Create Sitemaps -> Create ROR Sitemap" menu option: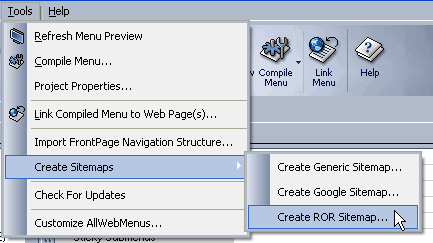 4. The "Create ROR Sitemap" window opens:
You can change three parameters that can be recognised by the ROR sitemap protocol:
- Last Modified Date: Timestamp of last modification. Refers to all URLs specified in the Link property of your project file (menu.awm).
- Change Frequecy: Specify how often content at this URL is usually updated.
- Priority: Choose a value 0.0 to 1.0 of relative importance in your site.
It is also essential to specify a Base URL for the *online* root folder of the website and the Location (Site_Root) which is the *local* root folder of your website files.
You should not forget to upload the file on your server so that search engines can track and use it.