Hello!
We have released a new version of AllWebMenus Pro: Version 5.3 build #890.
Check out What's New:
- Added the "Image Sets" feature. "Image Sets" are multiple images applied "as a whole" on certain image properties, such as the item's Background images (Item Background Image 1, Item Background Tile Image, Item Background Image 2) for each of the 3 states ("Normal", "Mouse Over", "Mouse Click").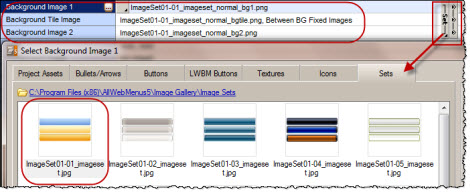 - 20 "Images Sets" added to choose from:
- Fixed a case where a conflict was caused in XSitePro between AllWebMenus and the XSitePro menu engine.
- Fixed an issue with a Visual Studio Local Server where you could end up with a duplicate slash in the URL and get a "page not found" error.
- Fixed a case where the "Relative to Image" positioning method did not work properly in some IE versions.
All features here: http://www.likno.com/allwebmenusinfo.html
Download the new version of our CSS menu builder at http://www.likno.com/download.html
Tags: background image, CSS, css menu, IE, image set, Menu, mouse click, mouse over, page, positioning, relative to an image, server, visual studio, XSitePro