Floating Images can now be added to any of the items of your DHTML menu, allowing for even more creative menu implementations.
- The fact that a "floating image" appears above the item's layer gives it the opportunity to exceed the item's area!
- Have a look at the following examples, where we have decorated one menu for Christmas and another for the Basketball's finals by just adding a "floating image" on the items you want and for any of the three states of the menu (Normal, Mouse Over or Mouse Click):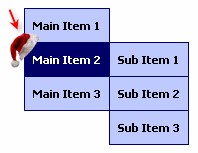 AND
Note: In this demonstration AllWebMenus DHTML Menu Maker version 5.1 build #734 was used.
Tags: dhtml menu, drop-down menu, javascript menu, software, web menu