Knowledge Base support case for AllWebMenus, abstracted and stripped of all user's private info.
Support Case Month: April 2012
Initial Email Subject: all web menu pro
Initial Email From: Tom
Hi, thank you for the quick reply.
Sorry for my badly written email. I'm building a Drupal 7 Website and I want a menu with a mouse over option.  I noticed on your web demo that you can have different displays colors etc per menu and I'm looking to do this for the website.
This is a link to want I have in mind www.next.co.uk.
Will the web menu have all the features available with the Drupal 7 add on as it would if I was using Dreamweaver?
Thanks again,
Tom
Reply From: Likno Customer Support
Hello Tom,
If the menu items are populated using the "Static" option, then you can have different colors per menu items, etc. You can actually do anything you like because you will add the items MANUALLY inside the AllWebMenus application.
But if you want the items to be retrieved dynamically by a database, then you need to use the "Dynamic" option which means that the items cannot have different styles (apart from the 3 groups of Main Menu, Submenu and Submenu+).
The URL that you sent me shows a "MEGA MENU". The items within each submenu are not "normal" menu items but each submenu is just ONE item that uses HTML inside it.
See this menu in our Example: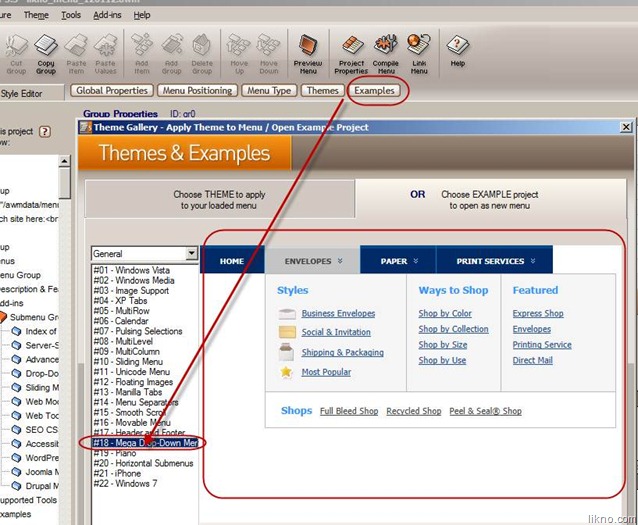 Best Regards,
Aris
Likno Customer Support
www.likno.com
Create any type of javascript menu (CSS menu, drop-down menu, sliding menu), button, html tree, modal window, tooltip, accordion, tab, scroller, jQuery slider) or design for your websites!
Tags: colors, css menu, database, demo, Dreamweaver, drop-down menu, drupal, dynamically, example, html, mega drop-down menu, mega menu, Menu, mouse over, sliding menu, styles, submenu, web, web menu, website