Knowledge Base support case for AllWebMenus, abstracted and stripped of all user's private info.
Support Case Month: March 2012
Initial Email Subject: Pop Up Windows
Initial Email From: Richard
I have not begun construction of a website, but need to know if I can use your product to launch pop up windows? I use wise pop-up to create these windows and need to trigger them from menus or submenus created with your product.
Thanks
Reply From: Likno Customer Support
Hello Richard,
First, I need to say that we have an easy way to open "pop up windows" (Modal Windows) from menu items if you create these modal windows with our other product, called "Likno Web Modal Windows Builder": http://www.likno.com/jquery-modal-windows/index.php
For more information (with images) on how you can do this, just lick the HELP button on the respective property, as shown below:
In case you want to use a different popup windows code (wise for example), then I believe that you can trigger them through the Javascript Command property here: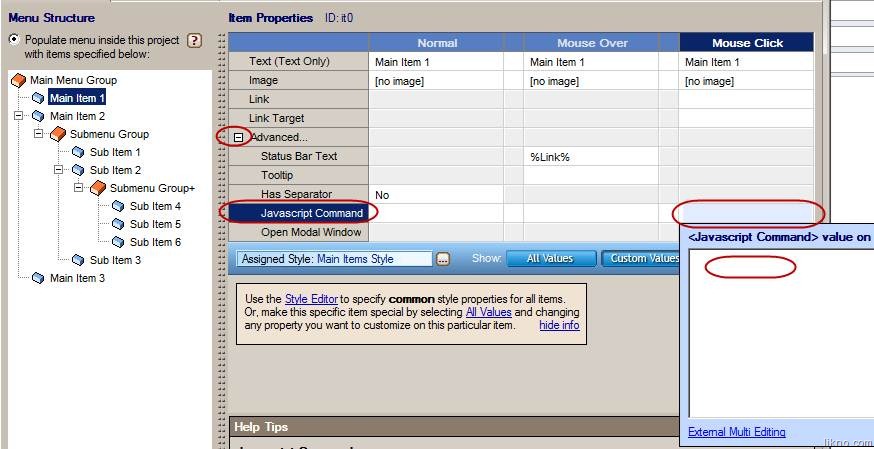 You need to know what javascript to write there, based on the "wise" instructions.
Best Regards,
Aris Filokostas 
Likno Customer Support
www.likno.com
Create any type of javascript menu (CSS menu, drop-down menu, sliding menu), button, html tree, modal window, tooltip, accordion, tab, scroller, jQuery slider) or design for your websites!
Tags: JavaScript, javascript menu, Menu, modal windows, pop up, pop up window, popup, popup window, submenus, windows, wise