Hello, we have released a new version of AllWebMenus Pro: Version 5.3 build #896.
Check out What's New
- Added extra menu positioning options to the "Menu Preview" pane too, so that your menu appears on Preview in a convenient position and is not affected by the actual positioning that takes place in the actual web page.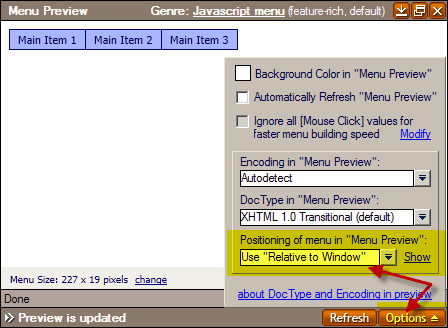 - Fixed an issue with the UL/LI sample code.
- Fixed an issue where the menu (javascript or CSS) could generate a horizontal scrollbar in the browser.
- Fixed an issue where the drop-down menu items appeared very wide in IE, in some rare cases.
- Fixed an issue where rounded corners on menus (javascript or CSS) were not displayed properly (Mozilla Firefox v13 only).
All features here: http://www.likno.com/allwebmenusinfo.html
Download the new version of our CSS menu builder at http://www.likno.com/download.html
Tags: browser, code, CSS, css menu, css menus, download, drop-down menu, features, FireFox, horizontal, IE, JavaScript, javascript menu, javascript menus, jquery, LI, Menu, mozilla, new, new version, page, preview, rounded corners, sample, scrollbar, sliding menu, UL, web, website