Server-Side Menus API is an add-in, specifically designed to cover the needs of those who want to generate menus on-the-fly, either database-driven or programmatically generated menus based on your conditions/parameters, on server-side environments such as PHP, JSP, ColdFusion, ASP, ASP.NET, etc.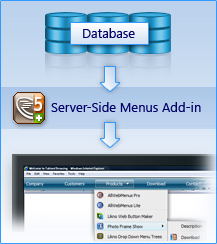 It is also needed for WordPress Menu, Joomla Menu and Drupal Menu implementations.
All technical information for using the API is documented at a PDF file, located at the "Add-ins -> Server Side Menus API" option of the AllWebMenus interface.
Tags: AllWebMenus API, API, documentation, guide, Manual, Server-Side Menus, Server-Side Menus API