Knowledge Base support case for Likno Web Tooltips Builder, abstracted and stripped of all user's private info.
Support Case Month: March 2012
Initial Email Subject: change text colors and  background color tooltip
Initial Email From: Buddy
Hi, I bought the tooltips and have a rush job I am working on, how do I change the text color and background color of a tooltip, I can't find the css file?
I have a page with 38 names and when you mouseover the name I want to show their credentials.
Thanks for all your help.
Buddy
Reply From: Likno Customer Support
Dear Buddy,
Everything is under the Style Editor in the Tooltip CSS field: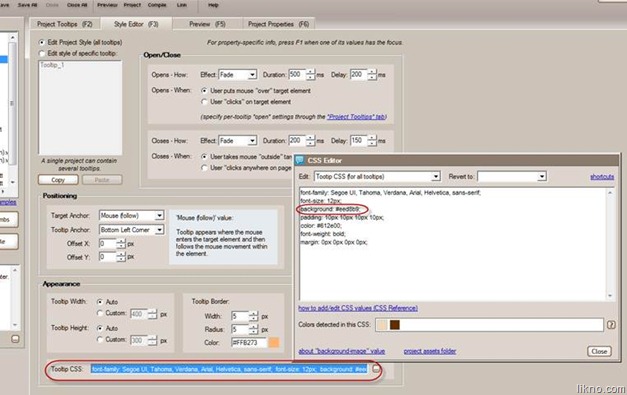 Best Regards,
Kostas
Likno Customer Support
www.likno.com
Create any type of javascript menu (CSS menu, drop-down menu, sliding menu), button, html tree, modal window, tooltip, accordion, tab, scroller, jQuery slider) or design for your websites!
Tags: Background color, color, CSS, mouse over, style editor, style+, text, tooltip, tooltip css, web tooltips, web tooltips builder