Hello! We have released a new version of Likno Web Scroller (jQuery Slider) Builder: Version 2.1 build #132.
Check out What's New
- Image scrollers (sliders) now available, with Flickr/Picasa support and more. Just choose the "Image Scroller" tab at the "Project Items (F2)" section for each example to see each example with images.
- New "Example 02b (videos)", with videos as scroller items.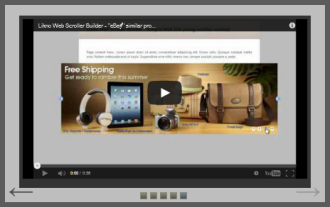 - Added the ability to slide using your finger in touch devices (tablets, smartphones, etc.).
- Easier publishing through the "Publish" command (replaces the separate "Compile" and "Link" commands).
- Added the ability to add/remove classes at the "Content CSS Classes" property.
- Fixed a case where the forward arrow did not work for "loop continuous" with "per item" and "center and select".
- Fixed a case where widths with percentage did not work.
- Fixed the highlighting in the preview.
- Changed the Sample Code to always start with checked "all code".
- Fixed Navigation Bars in grid.
- Fixed a bug where double-clicking on the Arrow Set selection browser in IE10 would crash the application.
- Fixed a bug where the navigation bar options disappeared from the interface.
- Fixed a speed issue when loading a Navigation Bar.
- Added the image auto-shrink so that images always fit inside their items.
- Fixed some examples.
All features here: http://www.likno.com/jquery-scroller/index.php
Download the new version of our web scroller (jquery slider) builder at http://www.likno.com/jquery-scroller/download.php
Tags: CSS, download, embedded, example, Flickr, IE10, image, image slider, jquery slider, Picasa, publish, scroller, slider, smartphones, tablets, video scroller, web scroller