Search Engine Optimization and Google Sitemap
AllWebMenus allows you to create sitemaps according to the Google Sitemap specification XML format, making your web sites Google friendly!
"Google Sitemap is an easy way for you to help improve your coverage in the Google index. It's a collaborative crawling system that enables you to communicate directly with Google to keep it informed of all your web pages, and when you make changes to these pages."
FREE!
The "Create Google Sitemap" feature is a free feature contained inside AllWebMenus.
The best news is that this feature is FREE and no purchase of AllWebMenus is required!
Download AllWebMenus and start using this free feature immediately!
Click here for online help from Google
The following site map of our Likno.com web site was generated from a subset of our site's dhtml menu with a touch of a button:
Create a Google Sitemap easily with AllWebMenus for FREE!
AllWebMenus can generate a Google Sitemap based on your menu structure. The produced Sitemap is exported into a simple .xml file. To create site maps for free, just follow the steps below:
1. Download AllWebMenus
(no need to purchase license for the free "Create Google Sitemap" feature!)
2. Install AllWebMenus, open it, and create your site structure: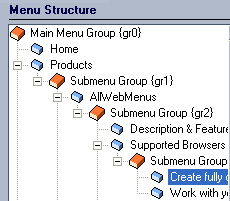 3. Select the "Tools Create Sitemaps Create Google Sitemap" menu option:
4. The "Create Google Sitemap" window opens:
You can change three parameters that can be recognised by the Google Sitemap protocol:
- Last Modified Date: Timestamp of last modification. Refers to all URLs specified in the Link property of your project file (menu.awm).
- Change Frequecy: Specify how often content at this URL is usually updated.
- Priority: Choose a value 0.0 to 1.0 of relative importance in your site.
It is also essential to specify a Base URL for the *online* root folder of the website and the Location (Site_Root) which is the *local* root folder of your website files.
Once the Sitemap is created, visit the following Google URL to submit it:
https://www.google.com/webmasters/sitemaps/docs/en/submit.html
This is a FREE feature!
Purchase of AllWebMenus is not required to use this feature! We offer this feature for free to all developers wishing to create sitemaps with little effort.
Just download AllWebMenus and begin creating truly functional Sitemaps for your web sites without any obligation to buy!