The solution consists of a combination of 2 parts:
Our Likno Web Scroller Builder... (1/2)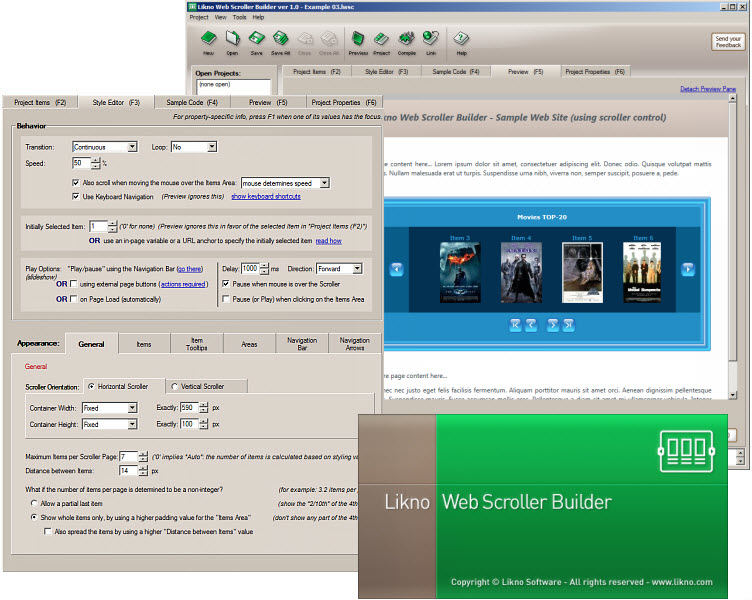 Use the application's "WordPress Scroller Add-in" to publish your scroller for your specific WordPress blog.
&

...our special "WordPress Scroller" Plugin (2/2)

Install the plugin online on your WordPress blog.
Through the plugin you can upload the files of your scrollers/sliders, choose whether or not an anchor element will be printed and finally choose the positioning method of it.
The Wordpress plugin supports 3 scroller positioning methods:

- "Shortcode" method: This means that you can add this scroller inside the post or page that you want, using the visual editor. You will find the appropriate button there. Just click it and select the scroller you want from the list. The scroller will appear only on the single view of your page/article. However, there is an option 'Show scroller everywhere' that enables you to show this scroller in every place that this page/article shows(for example a category archive view etc...).

Note: If you cannot find your scroller there, please make sure that it's 'Active'. Also you should check that it's positioning method is set to "Shortcode".
-
"Template tag"
method: Using this method you should copy and paste the generated code, inside the template file (for example header.php) that you want your scroller to appear.
-
"Widget"
method: A widget instance of the selected scroller is initially created and found in the
widgets administration page
(should be at '
YOURSITEURL/wp-admin/widgets.php
'), under the "Inactive Widgets" section. Just drag this widget instance and drop it inside the Widget Area that you want.
Note: You should keep in mind that actual scroller positioning is handled by the Likno Web Scroller Builder software.